Feych Universal Quick Charge 2.0 10a 5 Ports Power Adapter USB Charger with Cable (White)
Estimated Delivery 7 to 9 Days
Tracking number available within 3 days.
FEYCH Universal Quick Charge 2.0 10A 5 Ports Power Adapter USB Charger with Cable
Features:
- Quick charge 2.0 technology: Charges compatible devices up to 75 percent faster than a standard charger, and other smartphones or tablets at their normal speed ( up to 5 volts / 2 amps ).
- Ultra powerful: Five ports pump out 50 watts of power, enabling simultaneous multi-device charging. Level 6 for energy efficiency, pass AC3000V / 10mA, 1min of high voltage test.
- Premium quality: Industrial grade material and premium circuitry ensure superior performance and reliability.
- Smart: With auto detect technology, which could automatically recognize your devices and is compatible with most of electronic devices.
- Protection:Built-in surge protector, current stabilizer, temperature control and more advanced safety features keep you and your devices safe.
Specification:
- Total power:50W 10A
- Level 6 energy efficiency standby power consumption:0.1W
- Input:AC 100 - 240V 50 - 60Hz
- Output Power ( Universal ): DC 5V / 2A x 4, 40W
- Output Power ( Fast charge ): DC 5V / 2.4A 9V / 1.2A 12V / 1.2A, 10W / 15W ( Max )
Note:
- Only 1 of the 4 ports supports Qualcomm quick charge 2.0 protocol.
- Keep your hands dry when using it.
- Part of smartphones may not support Qualcomm quick charge 2.0 protocol, while this adapter can work as a general charger as well.
- This own cable is only for micro USB port phone.
Compatible Devices: Universal
Special Functions: Multi-Output, Rapid Charging
Connection Type: Universal
Cable Length (cm): Long (80 to 149 cm)
Color: Black, White
Package weight: 0.327 kg
Product size (L x W x H) : 8.95 x 5.60 x 3.20 cm / 3.52 x 2.20 x 1.26 inches
Package size (L x W x H): 12.30 x 8.35 x 8.10 cm / 4.83 x 3.28 x 3.18 inches
Package Contents: 1 x FEYCH Universal Quick Charge 2.0 10A 5 Ports Power Adapter USB Charger with Cable, 1 x Plug, 1 x USB Cable, 1 x English User Manual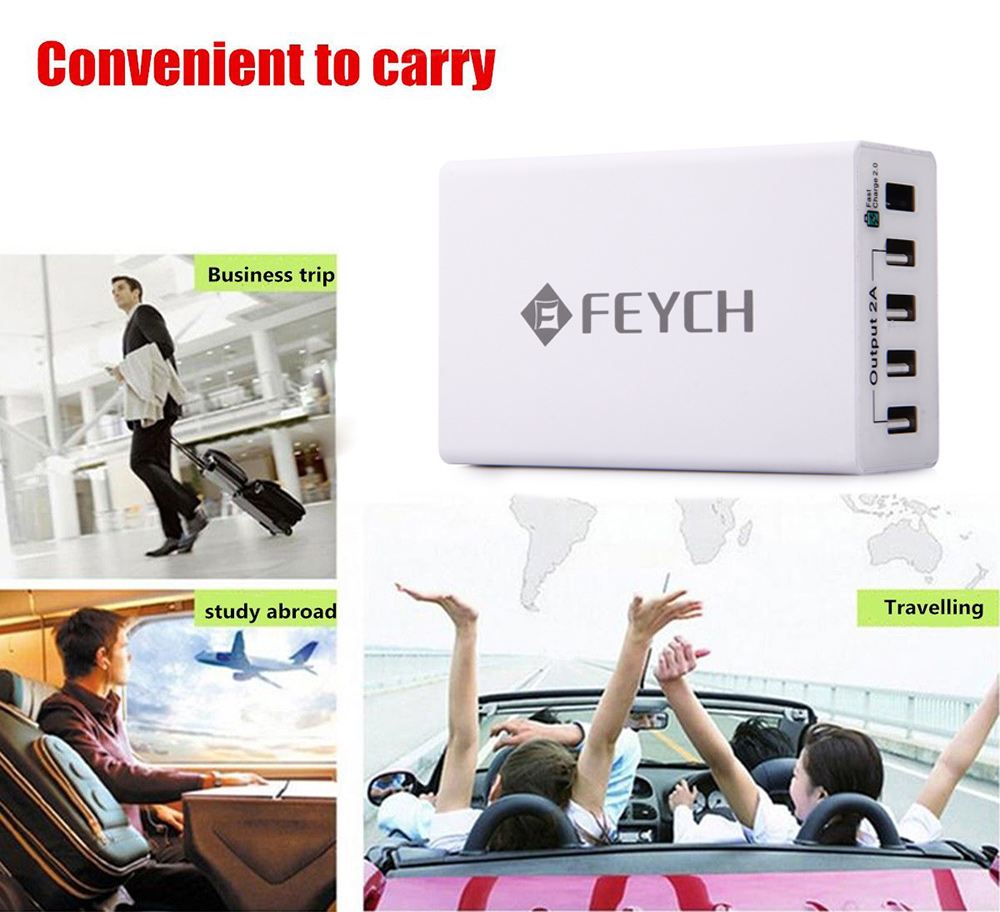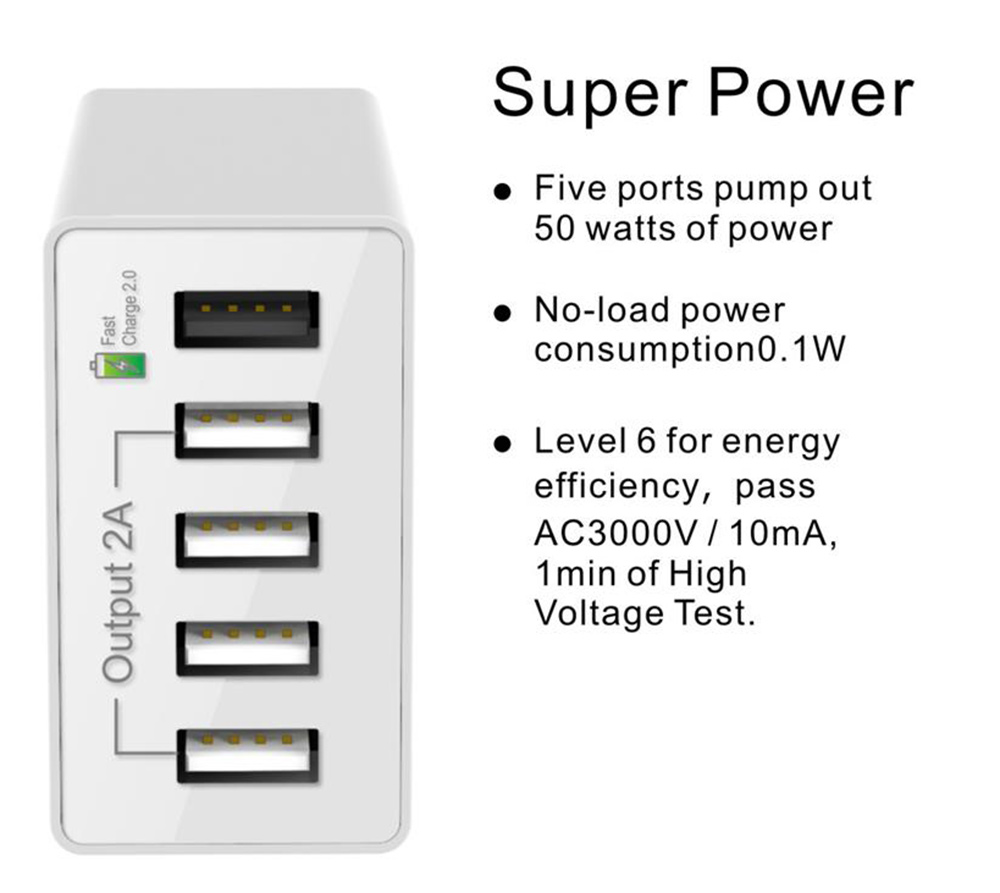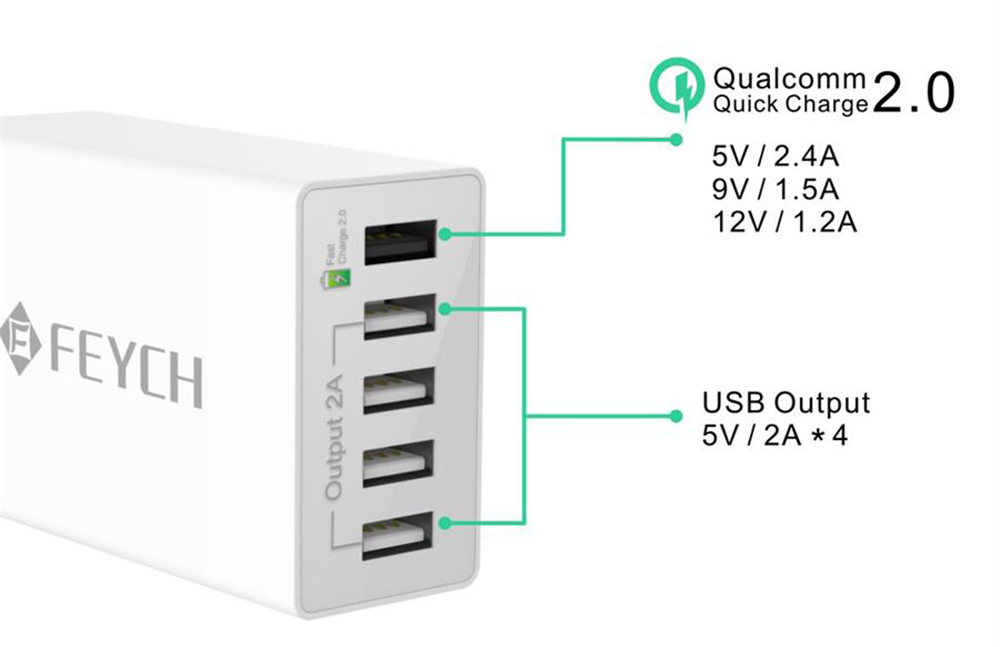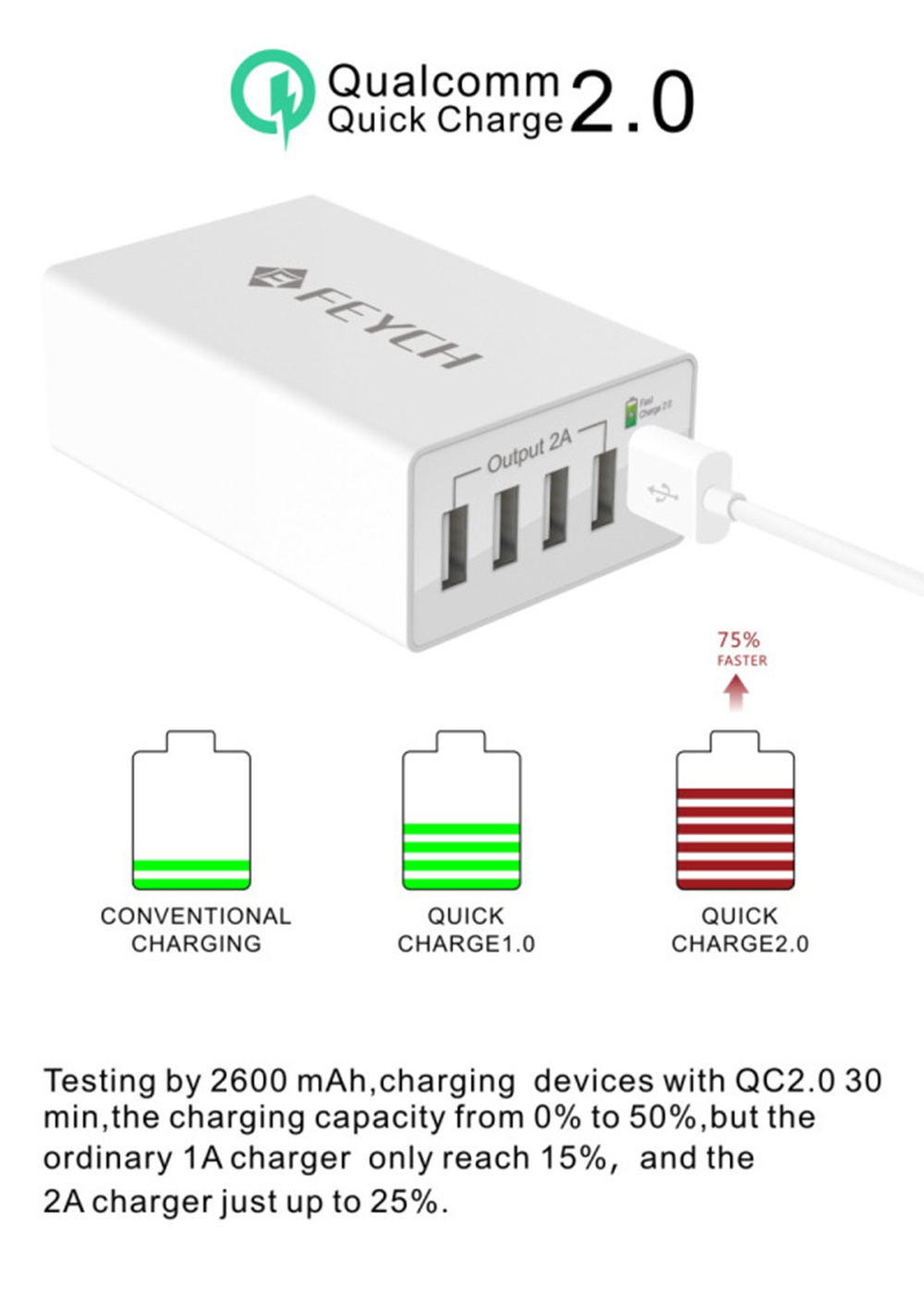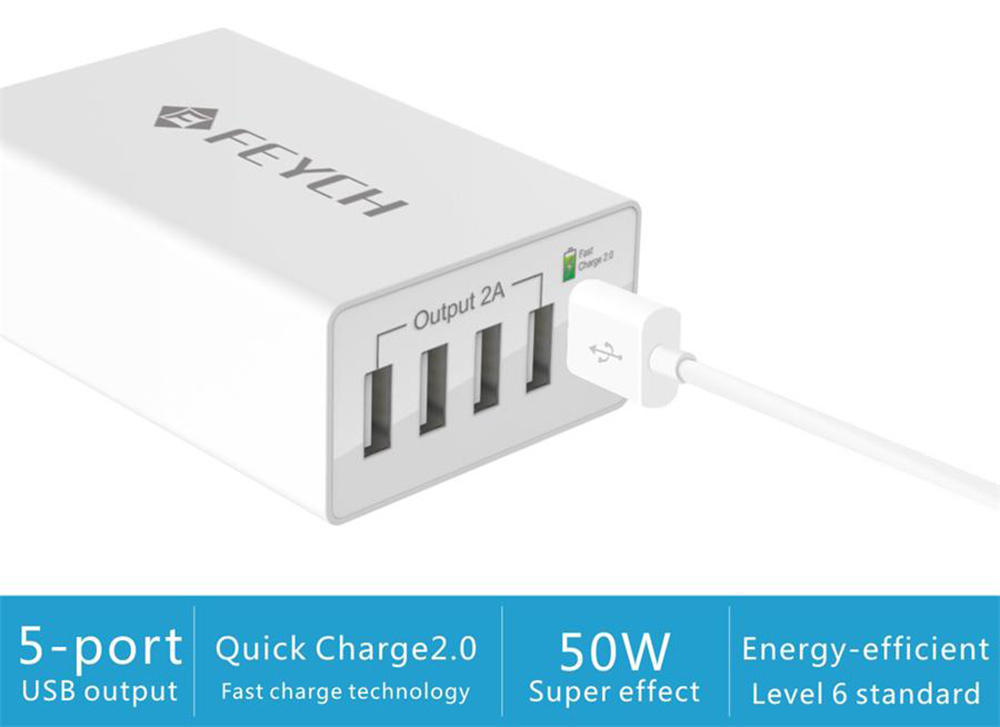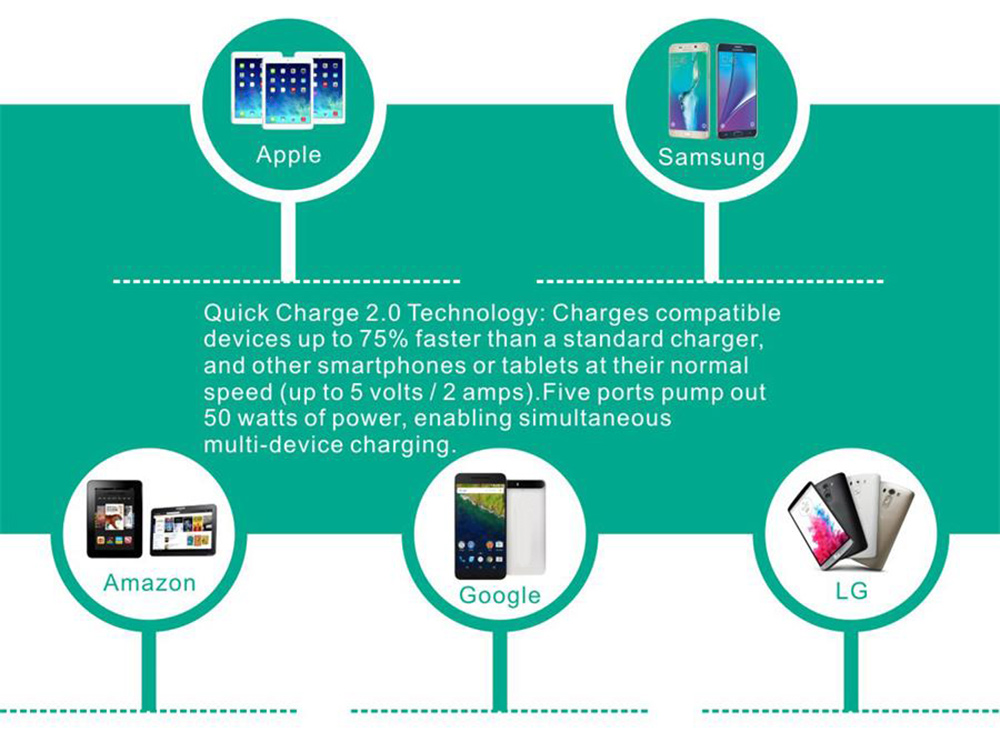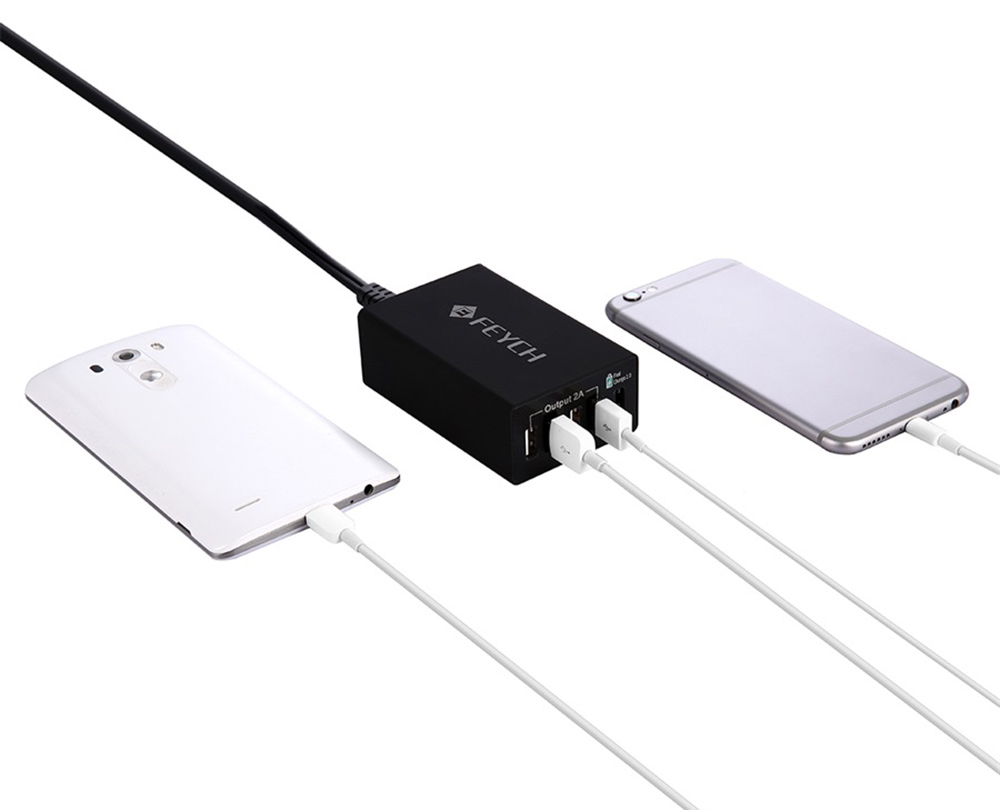 ---